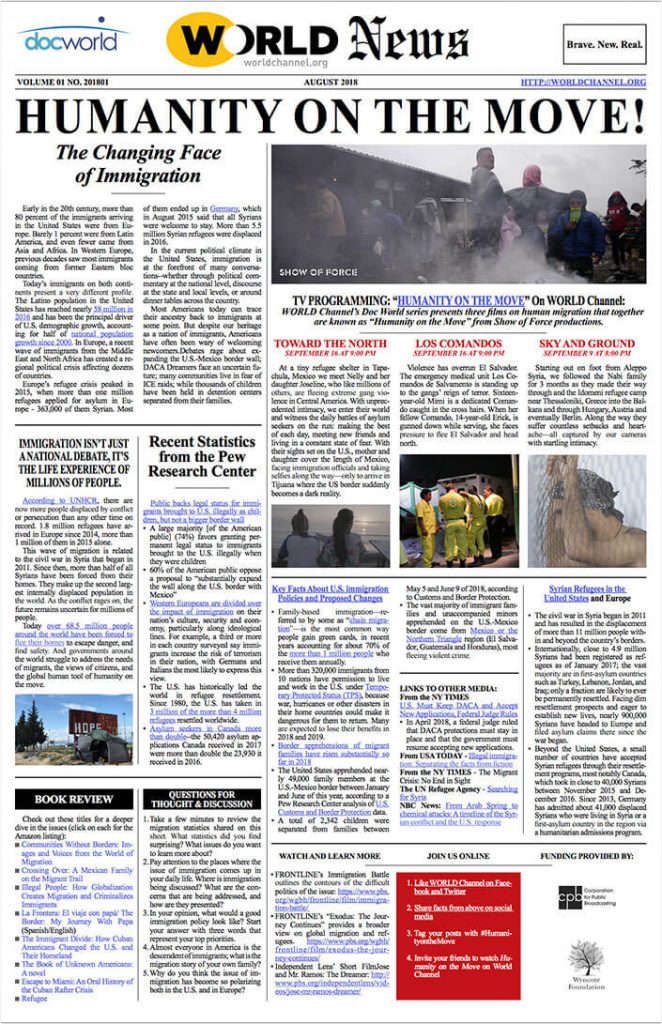 WORLD Channel's Doc World series will present a two-night season premiere with the three films from the Humanity on the Move film project, a tour de force on human migration. IMP has created special engagement materials and is hosting community screening events in select communities.
Season three of Doc World begins on September 9 at 9:00 pm with "Sky and Ground," Humanity on the Move's feature film, followed on September 16 by a dual broadcast of the two short films, "Los Comandos" and "Towards the North."
This collection of films will help to frame the many conversations about immigration and migration that will undoubtedly be a part of this year's election season.
Every year, thousands flee the gang violence of Central America in hopes of a better life. In "Los Comandos," 16-year-old paramedic Mimi must decide if she will stay in El Salvador or risk her life helping others. "Towards the North" is an intimate look into the battles of asylum seekers on the run through the eyes of Nelly and daughter Joseline.
WORLD Channel's new viewer guide for Humanity on the Move is designed to help individuals, families and communities better understand the larger issues around migration and immigration, with an emphasis on quality information and statistics provided by the Pew Research Center, along with high quality journalism, both public and commercial. Loaded with live links, references, discussion questions, and more, the new Viewers Guide also prints out at 11 x 17 for those wishing to use physical copies.